Want to save space on your mobile device by running apps from a memory card? Transcend's microSDXC/SDHC 300S cards are the right choice! Compliant with the latest speed class, the cards boast excellent random read/write speed, perfect for retrieving small pieces of data from random locations and speeding app launch time.
A good fit for mobile app storage
It's common for users to install and run mobile apps from microSD cards in order to free device memory. Random read/write performance is thus crucial. Transcend's microSDXC/SDHC 300S memory cards are a great fit for storing mobile apps.
Introducing Application Performance Class
The Application Performance Class was introduced to adapt this new trend. Transcend's microSDXC/SDHC 300S memory cards meet the new A1 standards, delivering minimum random read of 1,500 IOPS and random write of 500 IOPS, and sustained sequential speeds of at least 10MB/s.
A1 compliance applies only to 32GB-512GB capacity cards.
Show the transfer capabilities
Transcend's microSDXC/SDHC 300S memory cards meet both the UHS Speed Class 3 (U3) and the UHS Video Speed Class 30 (V30) standards for 4K Ultra HD video recordings, with read/write speeds of up to 100MB/s and 85MB/s respectively.
U3 and V30 compliance applies only to 128GB-512GB capacity cards.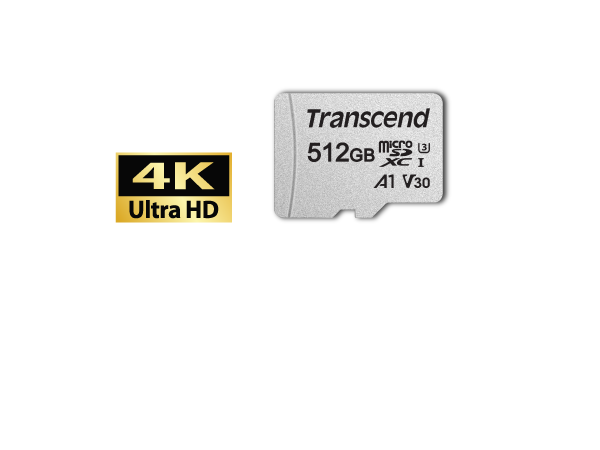 Store as many as you wish
In addition to excellent random read/write performance, Transcend's microSDXC/SDHC 300S memory cards come in up to 512GB storage capacity, allowing you to keep more digital files and apps at hand!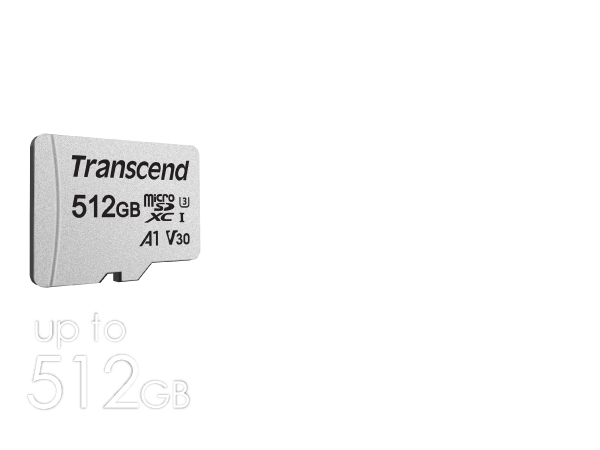 Built for extremes
To deliver the best performance and stability, Transcend's microSD memory cards are tested to withstand extreme conditions. They are temperature resistant, waterproof, shock proof, X-ray proof, and static proof.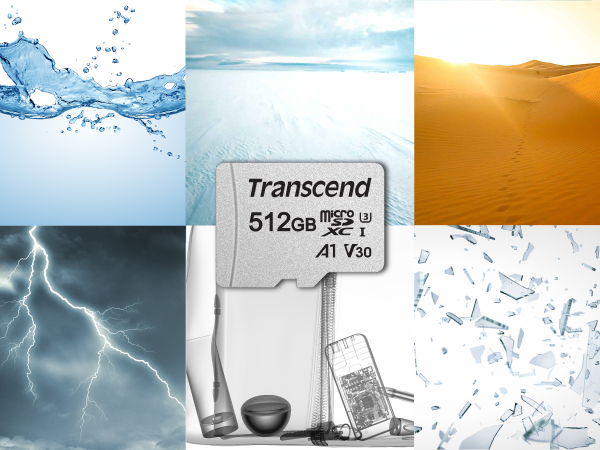 RecoveRx software
Transcend offers exclusive RecoveRx software, a free data recovery utility that allows you to search deep within a storage device for traces of erased files including digital photos, documents, music and videos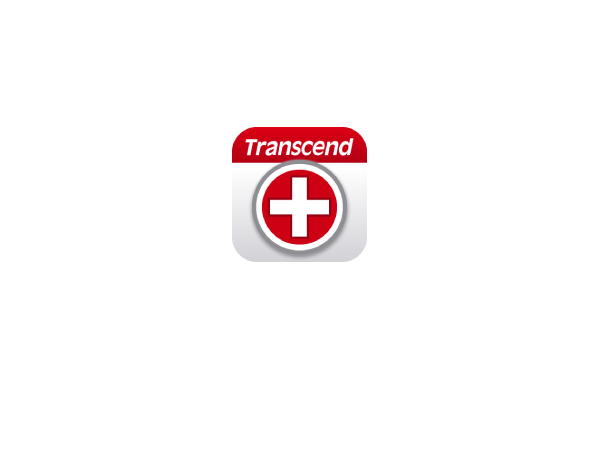 Specifications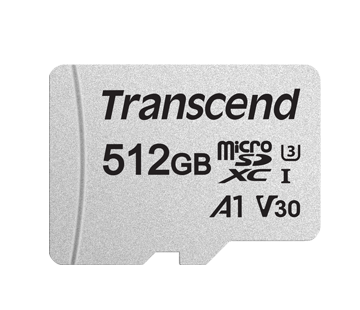 Appearance

Dimensions
11 mm x 15 mm x 1 mm (0.43″ x 0.59″ x 0.04″)
Weight
0.4 g (0.01 oz)

Storage

Capacity

4 GB

/

8 GB

/

16 GB

/

32 GB

/

64 GB

/

128 GB

/

256 GB

/

512 GB

Flash Type

3D NAND flash
2D NAND flash

Operating Environment

Operating Temperature
-25°C (-13°F) ~ 85°C (185°F)
Operating Voltage

Performance

Speed Class

UHS-I U3
UHS-I U1
Class 10
V30
A1

Sequential Read/Write (CrystalDiskMark)

up to 100/85 MB/s

up to 100/40 MB/s

up to 100/40 MB/s

up to 100/20 MB/s

up to 100/20 MB/s

up to 95/10 MB/s

up to 20/10 MB/s

up to 20/10 MB/s

Insertion/Removal Cycles
10,000

Note

Speed may vary due to host hardware, software, usage, and storage capacity.

Warranty

Certificate

Warranty

Five-year Limited Warranty

Warranty Policy

Please click here for more information about the Transcend Warranty Policy.
---
Awards
---
Order Information
4GB
TS4GUSD300S

 

microSDHC, C10 / 2D NAND Flash
8GB
TS8GUSD300S

 

microSDHC, C10 / 2D NAND Flash
16GB
TS16GUSD300S

 

microSDHC, C10, U1 / 2D NAND Flash

TS16GUSD300S-A

 

microSDHC I, C10, U1 (with adapter) / 2D NAND Flash
32GB
TS32GUSD300S

 

microSDHC, C10, U1, A1 / 3D NAND Flash

TS32GUSD300S-A

 

microSDHC I, C10, U1, A1 (with adapter) / 3D NAND Flash
64GB
TS64GUSD300S

 

microSDXC I, C10, U1, A1 / 3D NAND Flash

TS64GUSD300S-A

 

microSDXC I, C10, U1, A1 (with adapter) / 3D NAND Flash
128GB
TS128GUSD300S

 

microSDXC, U3, V30, A1 / 3D NAND Flash

TS128GUSD300S-A

 

microSDXC I, U3, V30, A1 (with adapter) / 3D NAND Flash
256GB
TS256GUSD300S-A

 

microSDXC I, U3, V30, A1 (with adapter) / 3D NAND Flash
512GB
TS512GUSD300S-A

 

microSDXC I, U3, V30, A1 (with adapter) / 3D NAND Flash